During the recent federal government shutdown, help came to us all in all directions, and we can't express our gratitude for the outpouring of support we received. It was a time of uncertainty for thousands of federal workers in Utah, and we helped our partner agencies meet the increased need by ensuring a consistent and increased supply for those areas most affected. We are proud that we have enough product to be able to meet such a sudden increase in need, and especially proud at just how nimble and creative we can be, especially for an organization of our size.
A few weeks in to the shutdown, we received a call from a man whose first concern was for his staff, who just happened to be the TSA workers at the Salt Lake airport. He wanted to know if there was anything he (or we) could do to help them through this tough situation, which was new to so many. What these, and many other federal workers, were experiencing is what is referred to as "episodic poverty." Hard-working Americans who may have never before experienced such a major and abrupt financial shortfall suddenly found themselves unable to make ends meet.
To help, we quietly filled our Mobile Pantry truck with food and took it to the airport for these workers, who were still showing up without pay. We distributed food to these TSA workers in the parking lot, but it was obvious that many were too embarrassed to accept this much-needed help. So we took what was left and created a make-shift pantry in an office inside the airport where workers could go without prying eyes. For many of us who were there that day, it was one of the most humbling experiences we've had as staff members at Utah Food Bank. We don't do what we do for thanks, but we were all so touched by this thank you message that we thought we'd share. The letter accompanying the certificate you see below stated this:
"On behalf of the entire TSA Utah staff, I would just like to say thank you for the amazing support you gave our organization during the time of the partial government shutdown (furlough). The food and hospitality you provided were a great help to our dedicated and vigilant workforce, and I appreciate your help in making this difficult situation more palatable for all. Your thoughtful support, donations and gestures of goodwill helped boost employee morale and helped our officers and staff feel valued and appreciated, which in turn bolstered them in their ongoing commitment to the accomplishment of TSA's mission to keep the traveling public safe. Thank you for making a difference with building a stronger community and partnership!"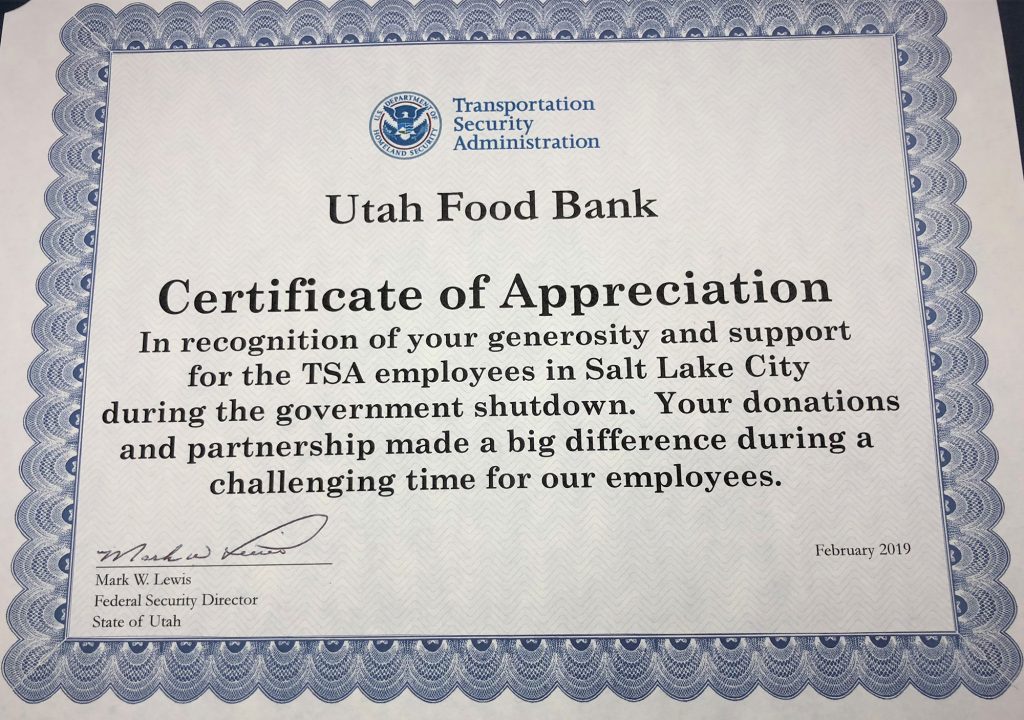 While we are so glad this is behind  us, please keep in mind that there are still millions of American families who are just one unexpected medical bill or car repair (or missed paycheck) away from needing help. According to a recent report from the Federal Reserve Board, if faced with an unexpected $400 expense, 40% of American adults would need to either borrow money, sell something or not be able to make that payment.  It often surprises people when they learn that most of the families we serve are working families, many working more than one job.  This experience shined a light on what episodic poverty is, and just how easily it can occur…to anyone (even your neighbor), and just how appreciated your support is!