"I came home from the grocery store the other day, and my mom said, That's a hundred dollars worth of food?! I said, 'It is now.' And it's hard."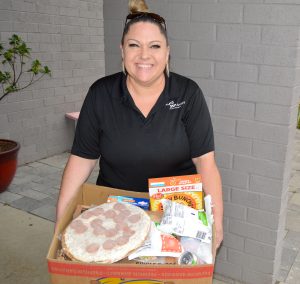 Meet Dawn. She visits one of our partner food pantries to help feed her family after a series of difficulties left her family struggling to make ends meet. When the pandemic hit, they were new to Utah, and she got laid off from work, and then everyone in her home came down with Covid.

"I was in the hospital for two months with Covid, and then I got it again twice. That's what started it. You know, you use all your savings, you use everything you have, and then you realize you're kind of broke, and you go to the grocery store, and $100 gets you like five things. Everything snowballs, and it's hard to get back on your feet."

Despite getting up at 2:30 in the morning for her job at the airport, Dawn was all smiles as she expressed how grateful she is for organizations like Utah Food Bank and her local food pantry, as well as all the fantastic people who support the resources that help her feed her family. "Utah is such a wonderful state. Everybody is so nice here; it's actually really amazing. A lot of people might be ashamed, but it's not embarrassing to need help. We all need help. And this food is so helpful. It really is."

Those hit hardest by the pandemic are also finding it the most challenging to bounce back. With inflation continuing to rise, more and more people are finding their budgets stretched beyond the breaking point as their paychecks stay the same, but what they can afford continues to shrink. It's terrifying to realize your ability to feed and care for yourself—and your loved ones—is diminishing despite your best efforts. But there is hope.

When you give to Utah Food Bank, you help our neighbors across the state who, like Dawn, find themselves needing help. Click here to give today.