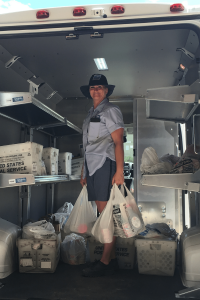 It's back! After a two-year hiatus due to COVID-19, the 30th annual Letter Carriers' Stamp Out Hunger Food Drive is THIS SATURDAY, May 14! This is the nation's largest 1-day food drive – it has provided 19.3 million pounds in Utah alone since 1993 – and we are so grateful to the many letter carriers whose hard work help make this event happen.
Participation is simple! Just leave a bag of nonperishable food items by your mailbox no later than 9 am on Saturday, and your letter carrier will handle the rest. If for some reason your food isn't picked up on Saturday, please put it back out Monday morning. Alternatively, you can drop it off at a local food pantry, Utah Food Bank's Salt Lake or St. George warehouses or any Harmons location.
All nonperishable food donations are appreciated, but healthier options that contain all-natural ingredients and are low sodium/low sugar with no high fructose corn syrup are ideal.
Our most needed food items include:
Peanut Butter
Mac & Cheese
Canned Meats
Chili
Canned Fruits
Boxed Meals
All donations will be distributed to food pantries located in the community where the donation is made, and they are sure to make a significant impact. "Donations received through this food drive come at a crucial time as school gets out and many kids are left without access to school meal programs," said Ginette Bott, Utah Food Bank President & CEO. "Community support of this effort will truly make a difference in the lives of the 1 in 7 Utah kids who are unsure where their next meal is coming from. We are still seeing elevated levels of need due to continued economic fallout from the pandemic in conjunction with record-setting inflation rates."
So don't forget to put your bag out by 9 on Saturday morning and help make a difference for the 410,000 Utahns who don't always have enough to eat!