Summer is a tough time for families struggling to make ends meet and fill empty tummies without the help of school meals. Many overworked parents skip meals to save money in the face of rising costs. This is why we are working harder than ever to ensure Utah children facing hunger have access to nutritious food.
Utah Food Bank has added more sites to the Summer Food Service Program, bringing the total number of locations up to 62! These free meals are available for youth up to age 18. Many of these sites are in libraries, parks, and even splash pads to allow kids to get out of the house, unplug, and play while also enjoying a nutritious free meal.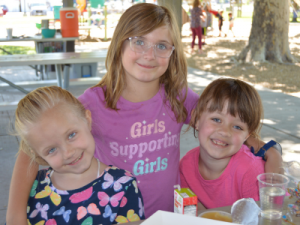 "Summers are long with five kids at home," one Utah mom shared with us at a summer meal site. "When we come to the park for lunch, I notice the kids don't graze out of boredom the rest of the day. That helps keep grocery costs down so I can stretch my food dollars further."
Many individual sites are reaching out to local community members to add an extra layer of fun for the kids. In Kearns, the local library is incorporating story time during their meals. Another site has partnered with their local law enforcement for demonstrations.
Utah Food Bank is offering these meals at 62 locations this summer, with plans to serve more than 146,000 meals at sites in Salt Lake, Utah, Washington, Weber, Davis, Iron, San Juan, and Grand counties. For a complete list of our site locations, visit UtahFoodBank.org/SummerMeals.
You can also text "FOOD" to 304-304 for nearby resources. This free texting service will prompt you to enter your address or zip code to receive the location and service times of up to three nearby summer meal sites.
There are many opportunities to join in the fight against hunger statewide. Your gift of food, time, or money is desperately needed to meet the high demand for food in Utah this summer.