This week, Smithfield Foods' Helping Hungry Homes®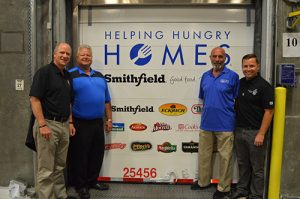 initiative, a program focused on alleviating hunger and helping Americans become more food secure, joined forces with Smith's Food & Drug Stores to donate more than 40,000 pounds of protein to us.
Smithfield and Smith's representatives presented the donation, and members from all three organizations discussed food insecurity in the local community and the significance of this donation in helping Utahns facing hunger statewide. One of our key transportation partners, C.R. England, also played a role in getting the donation to us, along with the other food bank recipients across the country.
"The significance of this donation cannot be underestimated as it helps fill an important gap in the diets of 417,000 Utahans at risk of missing a meal today by providing rarely-donated but highly nutritious meat products," said Jim Yorgason, Utah Food Bank President & CEO. "We are incredibly grateful to Smithfield Foods and Smith's Food & Drug Stores for coming together to make this possible."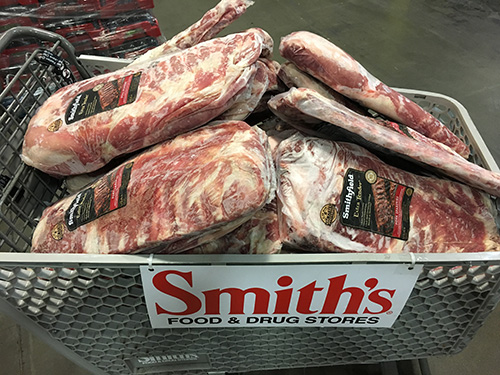 "We know hunger-relief efforts matter, so Smith's is committed to creating more meals for families by donating perishable items that are unsalable, yet still nutritious, from our stores to local food banks every day," said Marsha Gilford, Smith's Vice President of Public Affairs. "This morning, Smith's is proud to partner with Smithfield Foods to continue toward those efforts because it takes a team of community partners to fight hunger."
Smithfield's donation to Utah Food Bank was a part of the Helping Hungry Homes® 2017 nationwide donation tour. Throughout the annual tour, Smithfield will provide large-scale protein donations to nearly 60 food banks across the country. This donation adds to the more than 65 million servings of protein donated since 2011.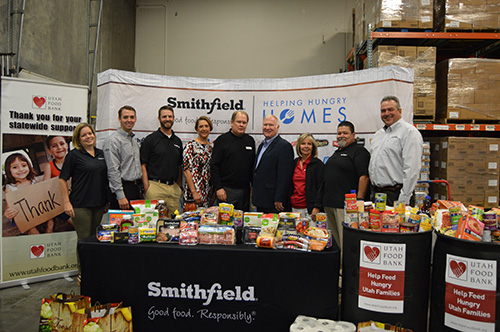 "At Smithfield, we are passionate about supporting our communities in need," said Dennis Pittman, senior director of hunger relief for Smithfield Foods. "By providing donation to Utah Food Bank, thousands of our hungry neighbors will be able to provide their families with high-quality, nutritious protein."