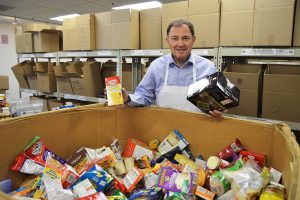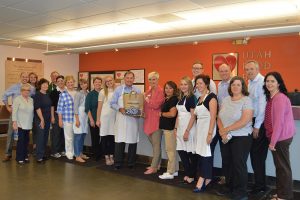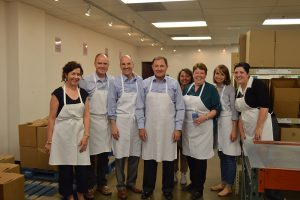 Today, Governor Gary R. Herbert and his staff completed their annual volunteer shift here at our warehouse. They all had a great time taking a break from politics to help Utahns facing hunger, and we appreciate their hard work sorting donated food into categories, which makes it much easier to get the right amount and types of food to our 141 partner agencies across the state. While they were here, Governor Herbert took the opportunity to encourage Utah businesses and individuals to support our annual Summer Business Food & Fund Drive.
According to Governor Herbert, "Utah is second to none when it comes to charitable donations. However, as summer begins and many of our citizens focus on family activities, donations to local food banks substantially decrease. Due to the lack of access to school lunch and breakfast programs, child hunger also peaks at this time. Whether they are able to give food, time, or money, I would encourage our citizens to offer their support. This effort is greatly appreciated, especially during the hungriest season of the year."
Summer is our greatest time of need because when kids are out of school, their parents have to provide those two additional meals a day they receive at school when it's in session. At the same time, donations slow as families focus on summer activities. Because most businesses still operate at full capacity during the summer, we encourage businesses of all shapes and sizes to join our effort by hosting food and/or fund drives in the workplace. It's great for team building, improves employee morale AND even helps Utahns facing hunger at the same time. To find out how your business can participate, and access all sorts of tools and tips to help you succeed, click here.
Thank you for joining us, Governor Herbert and staff!